If you follow the St. Jude Dream Home Giveaway events, you may be aware that your professional Cincinnati movers here at All My Sons proudly sponsor the cause along with many local Cincinnati businesses. This year was particularly special, as we received a heart-warming thank you letter from an individual who was very grateful to have won two American Express Gift Cards –donated by your local Cincinnati relocation providers here– via raffle drawing.
Jim, the winner of the AMEX gift card raffle drawing, recognized a very interesting aspect to his story which we absolutely love! Jim purchased his raffle tickets while receiving bone marrow treatment for acute myeloid leukemia. His heart was in the right place as he purchased his tickets hoping his donation would help to prevent future patients like himself from suffering the woes of chemo-therapy.
Jim's thank-you letter serves as a fantastic reminder for why we support such awesome causes as the St. Jude Dream Home Giveaway. The thanks we received have certainly pumped a burst of joy into our offices which your Cincinnati mover suspects will last quite a while! St. Jude is a great cause to be a part of, and we plan on being a proud sponsor for a long time!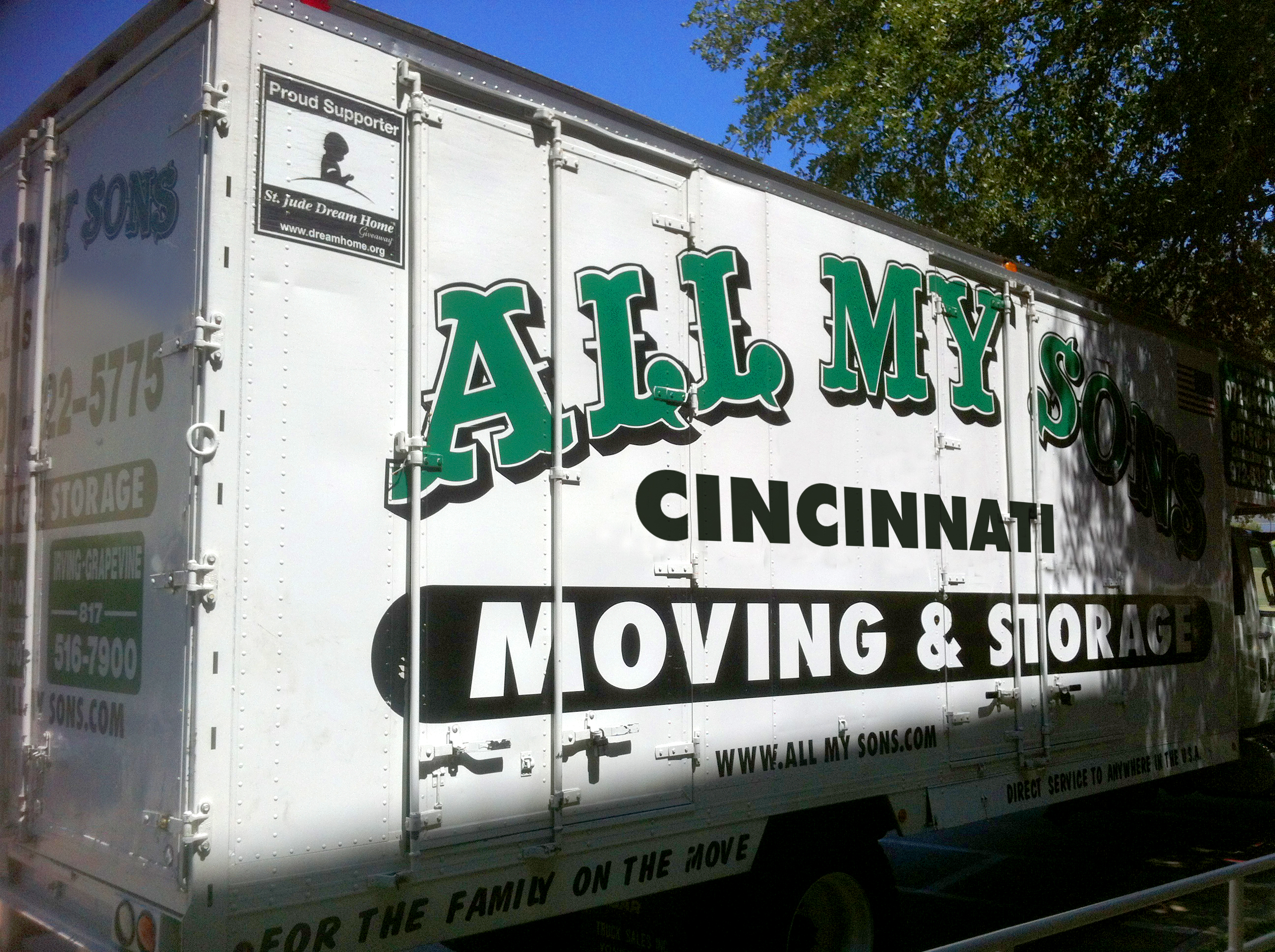 Last night (or rather this morning) nearly a hundred space enthusiasts gathered at the Cincinnati Observatory Center to witness the satellite-broadcasted landing of NASA's rover, Curiosity, on Mars. Children and adults alike were excited to witness Curiosity's first moments after a successful landing on the red planet. On top of the Curiosity landing excitement, the Cincinnati Observatory Center's famous 1845 telescope was also a big hit with guests who got to gaze at the moon close-up. Visitors had to have had a blast as the observatory was open until after 2 am! Your Cincinnati professional movers sure would have loved to join in on the space-watching fun, but moving season is still in full effect, which means your Cincinnati relocation service titans here have a bedtime!
Reds fans and animal enthusiasts were treated to a day with the pros as the whole Reds team visited the Cincinnati Zoo. Fans who attended enjoyed an hour of question and answer time with the Reds, as well as taking photos with their favorite players. This was the fifth annual 'Reds Day at the Zoo,' and the fun isn't over! This evening, the zoo will host an animal parade before the game kicks off. The Zoo's mascot, Sam the Bald Eagle, will even make an appearance at the Great American Ball Park during the national anthem. Zoo members will even enjoy half-priced tickets to the game this evening against the Pittsburgh Pirates. Your Cincinnati moving professionals hope that the day's events get our Reds pumped and ready to take home a win against Pittsburgh! Go Reds!
Your Cincinnati relocation service providers are delighted with the recent addition of three-hundred local construction jobs. According to data collected by the Associated General Contractors of America, Cincinnati currently offers the most construction employment opportunities in the entire state of Ohio! New construction jobs point to new construction, which is great news for any Cincinnati moving company considering the relocation needs sure to follow. Furthermore, with new employment often comes the ability to move into a better home or neighborhood! Your Cincinnati professional movers are excited for the new year and also for the new business sure to come our way as a result of the upcoming construction. Happy New Year!

This weekend has something special in store for yuletide enthusiasts in Cincinnati. A jolly flash-mob of Claus-clad Santa's will be moving through Cincinnati from noon until midnight Saturday starting in Fountain Square. Directed via text and tweet on where to go next, the faux Santa mob will visit more than twenty venues during its twelve-hour escapade. It's not too late to suit-up and join the festive forces of Cincinnati's Santa Claus Mob; if you want to get in on the action, all you need is your cell phone, a bag to hold candy canes to pass out, and of course a Santa Claus (or Misses Claus) suit.

The feeling of security in the home is very important, especially for those who live alone. For people who live alone, apartment living is a popular option, but while apartments can be ideal for those living solo some apartments can feel a little less than safe. If you foresee a residential move in your near future, perhaps you should consider security features along with all the other preferences you have for your next pad. Loft-style living is definitely worth considering if you sometimes feel uneasy laying your head down at night. Living in a Cincinnati loft apartment can feel surprisingly safe when you consider some of the common features they share; many have on-site security guards as well as surveillance cameras, plus a tenant's front door is far less-exposed to unwanted attention being deep within a secure and sturdy building. Your Cincinnati movers are licensed and insured to move you into all types of buildings, loft-style included!
Music fanatics in Cincinnati will get their fix starting Thursday. The MidPoint Music Festival kicks off on Thursday and lasts until Saturday in downtown Cincinnati. The MidPoint Music Festival is a ten-year-old tradition and is still going strong! Eighteen stages of up-and-coming artists and well-knowns alike will invite attendees of the festival to take in a variety of different music, there will even be bike racks set up to make bicycle travel an easy option to move from stage to stage. Your Cincinnati movers hope everybody has a great experience at the MidPoint Music Festival!
Ex-Cincinnati Bengals wide receiver, Chad Ochocinco (formerly Chad Johnson), likely has an above average grasp on moving with fish. If you haven't seen Ochocinco's bedroom, you are missing out! Exotic fish swim in an extravagant aquarium which arches over the head of his bed. The half-canopy of aquatic life surely makes for a relaxing bedtime experience on a nightly basis for Chad and his fiancé, Evelyn Lozada. And the impressive tank is not the only one in his house. Chad's living room features a 70-foot couch, and three high-def televisions mounted on the face of his shark tank! It is safe to say that there is always something interesting to watch, either on TV or behind it, in Ochocinco's living room!

Moving within the same neighborhood? Talk about an easy transition! With the short distance between point A and point B, the familiarity of your surroundings already established, and an obvious favoritism toward your neck of the woods; moving within the same neighborhood is the best of both worlds as far as relocating to a new home is concerned. How can I take advantage of the fact that I'm moving within the same neighborhood? You may ask yourself this question, and your Cincinnati mover has the answer! There are actually a lot of strategic ways to save the most possible on moving costs when moving so locally.
If you are moving soon, you may not be looking forward to the labor involved, but the sooner you get cracking on your move day preparation, the sooner you may relax after a job well done. It may be difficult to take the first step in preparing for your move, but you would be surprised how easy it is to knock all of your moving tasks out quickly once you get yourself into gear. It feels good to check off moving to-do list items, and once you start, odds are that you will enjoy the feeling of progress more than you would enjoy lazing about with the looming stress of unfinished moving tasks. While you prepare for the arrival of your Cincinnati relocation providers on your moving day, arranging packed boxes and smaller household items within a centralized area in the home is smart. Quick trips between the moving truck and your front door should be your goal; the faster your movers finish the job, the less expensive your moving services will be and the sooner you'll be settled in and lounging in your new home!